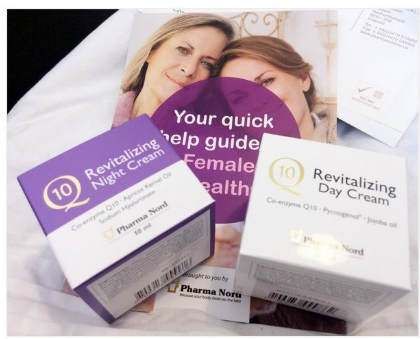 Pharma Nord's Q10 Cream has received glowing reviews this spring. Both Q10 Day Cream and Night Cream have been reviewed by magazines and bloggers.
Beauty writer Erika Holt describes the creams as 'a little bit of heaven on your skin', while Emma Campbell of beauty blog What Emma Did said our Q10 cream is "a lovely, safe skincare option if you wish to look after your skin as naturally as possible."
Vitamin-like substance coenzyme Q10 combines with natural oils and Pycnogenol, an extract from the French maritime pine tree and a powerful antioxidant. Together the natural ingredients deliver intense moisturisation, increase collagen levels and leave skin feeling refreshed and soft. The Q10 cream for both day and night have been shown to reduce fine lines and wrinkles within 6-8 weeks. Hear from the people who have tried it:
Erisea - Online Lifestyle Magazine
There are other options if you would like to boost your skin care through nutrition.
Good for you oils
Omega 7 sea buckthorn oil capsules from Pharma Nord contain oil from a tiny berry and help with lubrication through the body, protecting the internal organs, as well as the linings of the eyes, mouth and skin. Sea buckthorn oil is one of the best natural oils for mature and wrinkled skin due to its essential fatty acid and vitamin E, C and A properties. For more information visit www.omega7.co.uk It has nourishing, moisturising and restorative action, promoting tissue regeneration and reducing age-induced wrinkles and signs of premature ageing. Seabuckthorn oil also has natural sun protecting power.
---
The importance of blood flow
Blood supply to the skin is extremely important if the skin is to get all the oxygen and nutrients it needs. Pycnogenol can be taken as a supplement to improve blood circulation, helping with skin hydration and vitality. Pycnogenol can also help to reduce wrinkles by binding with skin proteins collagen and elastin to protect from various harmful enzymes. It also rebuilds elasticity, which is essential for smooth, youthful skin. It has also been shown to reduce over-pigmentation for a more even complexion. For more information visit www.pycnogenol.com
---
Now is the perfect time to spring clean your skin care. For free nutritional advice call 01670 534 900.