The soil in farming land within the UK and most of Europe is low in selenium. Crops grown in selenium-poor soil, will produce low selenium food products.
Recent UK statistics show that woman are less likely than men to achieve adequate selenium levels, with 50.3% of women having inadequate selenium intakes compared to 25.8% of men. This is a problem that could be easily rectified with the inclusion of high-quality selenium supplements, such as Pharma Nord SelenoPrecise.
Selenium yeast SelenoPrecise is a highly bioavailable, standardised selenium yeast.
SelenoPrecise contains pharmaceutical-grade selenium in the form of a unique (patented) organic high-selenium yeast. The body's absorption of this specific selenium yeast (SelenoPrecise) has been documented at 88.7% absorption in the body. SelenoPrecise's efficacy is documented in more than 40 published studies, including the groundbreaking KiSel-10 study that was published in The International Journal of Cardiology (2013).
Selenium is not Just Selenium
Selenium is a vital trace element that helps maintain good cardiovascular health, a healthy immune system and good reproductive capability, it also helps to protect cells against potentially harmful, tissue-scavenging molecules known as free radicals.
Most soils in the UK are deficient in selenium, which translates to low-selenium in farmed food and eventually, low selenium status of populations who consume local food.
FIND OUT MORE ABOUT PHARMA NORD SELENOPRECISE >
That's Why Pharma Nord SelenoPrecise Is Different.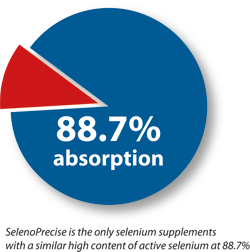 SelenoPrecise is Pharma Nord's potent and patented selenium yeast. It consists of small, round white tablets each containing 100 micrograms of selenium in the form of an organic source of highly absorbable selenomethionine and more than 20 other organically bound selenium compounds.
The preparation is unique in the sense that it emulates the various selenium compounds, we get from selenium rich food and is able to document a very high level of bioavailability and a stable quality:
• 88.7% of the selenium content is absorbed in the body
• 15 laboratories in 12 different countries have measured a 67% L-selenomethionine content in SelenoPrecise
Scientifically Documented.
More than 40 scientific studies have been published dealing with product quality, the stable 81% I-selenomethionine content, the high level of bioavailability, and the safety of SelenoPrecise. This is what makes the preparation an extremely well-documented source of selenium. Moreover, it is the main reason why SelenoPrecise is used in scientific studies and research projects worldwide.
FIND OUT MORE ABOUT PHARMA NORD SELENOPRECISE >
Why so many Selenium Species in SelenoPrecise?
SelenoPrecise contains many different selenium species because each type of selenium has a different function in the human body. By supplying a wide spectrum of selenium types it is possible to emulate the natural variety of selenium types, found in food containing selenium. This, scientists believe, has the best effect on our health, and this is why SelenoPrecise is an excellent source of more than 20 different
selenium compounds.
Buy Pharma Nord SelenoPrecise Now
Pharma Nord
SelenoPrecise 100mcg
60 Tablets - £7.25