Pharma Nord UK Managing Director, Bent is in the final week of the incredible 268-mile walk for charity.

Bent is undertaking the Pennine Way Walk with his son Troels, to raise money for the Newman Holiday Trust. You can find out more about the walk and charity on our blog post.

They have raised an amazing £11K to date for the charity, aiming to provide holidays for young children with special needs each year around the UK.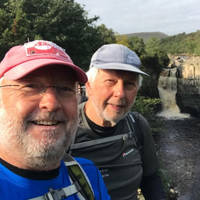 There's just one week left of the walk, which started at the Peak District and finishes at Kirk Yetholm in the Scottish Borders.

Over the last couple of weeks the duo have trekked through some of England's most beautiful countryside, witnessing Yorkshire's finest glacial valleys, rivers and waterfalls. They've tackled all sorts of weather - but they're not letting anything stop them as they approach the last stretch.

This weekend they reached Cumbria, where they were joined by youngest brother and Pharma Nord UK Sales Manager, Rasmus. In one day they achieved an incredible 28km, equating to 44,000 steps and a total of over 10 hours of walking!

Today they're set to complete another 12km which will see them walk along Hadrian's Wall and pass the infamous Sycamore Gap.

Follow us on Facebook or Instagram to keep up to date with their whereabouts and see the latest pictures.
You can also donate to their cause on their Just Giving page.