Our Managing Director, Bent Henriksen, is walking the Pennine Way with his son, Troels for the Newman Holiday Trust.
They're almost half way through the three week walk known as the 'Daddy' of all England walking trails. It stretches from the Peak District all the way to the Scottish Borders - that's a challenging 268 miles!
The walk is in aid of the The Newman Holiday Trust - a charity that provides holidays for children with special needs each year around the UK.
As all holidays have unfortunately been cancelled this year, the father and son duo decided to take on the walk as another means to raise funds for the Trust.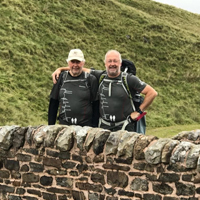 Troels, a Finance Director who volunteers at the Newman Holiday Trust, is hoping to help make 2021 a more exciting year for the charity:
"We thought the least we could do was try to raise a little money so that 2021 and beyond can be even bigger and even better - and what better way than a little walk?
"So I thought why not do the Pennine Way with my dad (he's only 82). I mean, how hard can it be?
"Being serious, my dad has always kept himself extremely fit and is in incredible condition for someone in his 80s, so I'm sure he will take this latest challenge in his stride – and probably finish before the rest of us!"
Bent turned 82 earlier this year and will be adding this to his long list of achievements over the last 10 years - including climbing Mount Kilimanjaro, Mont Blanc and Europe's highest mountain - Mount Elbrus in Russia.
"I keep myself physically fit and active – I trained for the Pennine Way by walking at least 10 miles a day for the last two months – and getting into the outdoors is something I really enjoy so this combines the two things perfectly."
So far they have raised an amazing £7,500 and are hoping to reach £8,500. You can read more about the charity and donate to the cause over on their Just Giving page here.
Best of luck Bent and Troels!