About Prelox
Prelox® is a patented combination of two potent ingredients clinically proven to increase a man's ability to achieve and sustain an erection - Pycnogenol and l-Arginine.
Why do we need to supplement?
Prelox can help support erectile function in cases of moderate erectile performance issues. Studies support that Prelox can help sexual performance, reduce performance anxiety and restore sexual confidence.
How does it work in the body?
Nitric Oxide (NO) is a substances that plays an important role with dilation of blood vessels, which in turn allows more blood to travel through them. Healthy blood flow to the genital area is key for sexual activity. Prelox contains the amino acid l-Arginine and the pine bark extract, Pycnogenol, both of which have demonstrated the ability to increase NO production. In the context of sexual activity, this increased blood flow to the genital region can help support erections, sexual stamina and enjoyment.
In Prelox L-arginine is present as complex with another amino acid, L-aspartate which improves the overall bioavailability.
The synergistic activity of both components in Prelox is patented.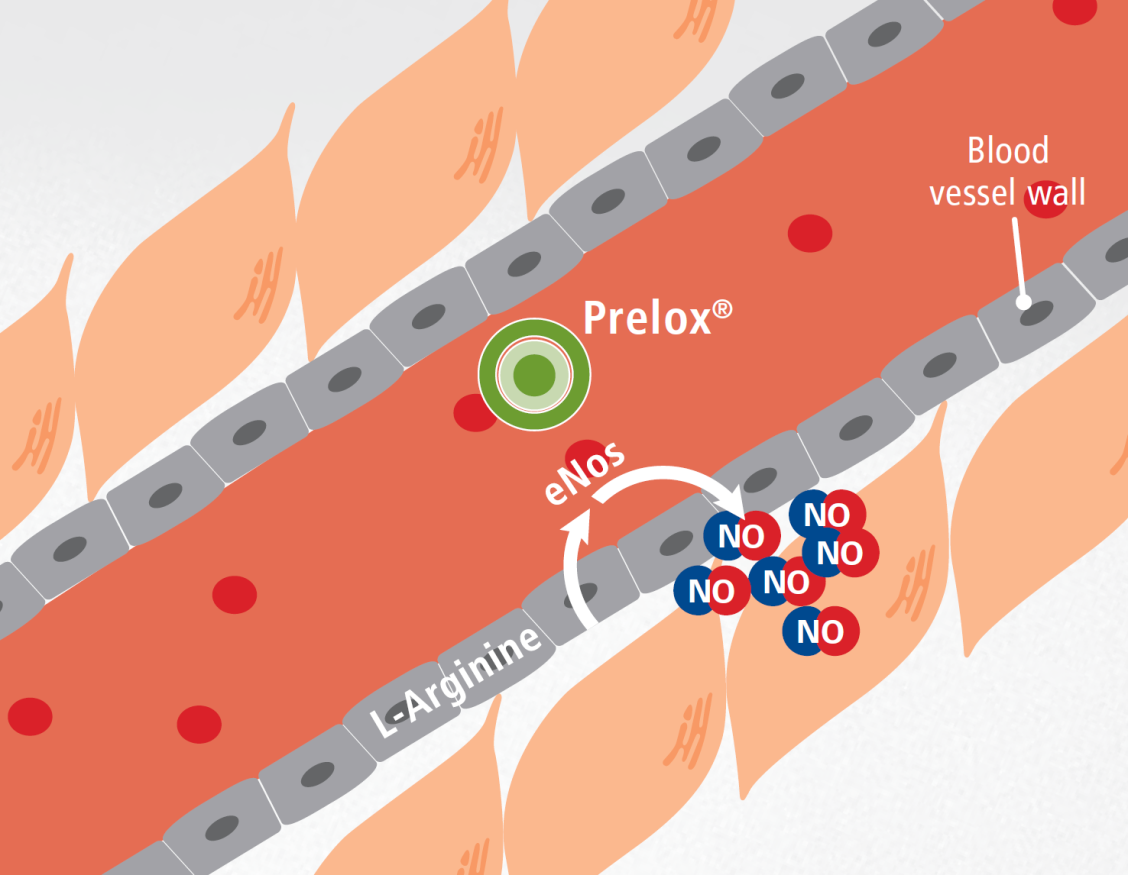 Will Prelox Begin To Work Immediately?
L-Arginine begins working immediately in enhancing blood flow and you can expect an initial improvement in the quality and duration of an erection. However, the greatest benefits of Prelox will accrue over a longer period of time as the health of the sexual vascular system improves.
Benefits in research
Erectile function
In one clinical, 40 men with some degree of erectile dysfunction took L-arginine for one month, which improved erectile function in only 5% of the men. In the following month, all men took Pycnogenol in addition to L-arginine (Prelox blend) resulting in 80% of the men experiencing restored erectile function.
A first clinical investigation of 40 men with compromised erections showed that taking L-arginine alone for one month did have an effect, though only in five percent of the men. The following month all men took Pycnogenol® in addition to L-arginine (Prelox® blend) and now 80% of the men experienced restored erectile function.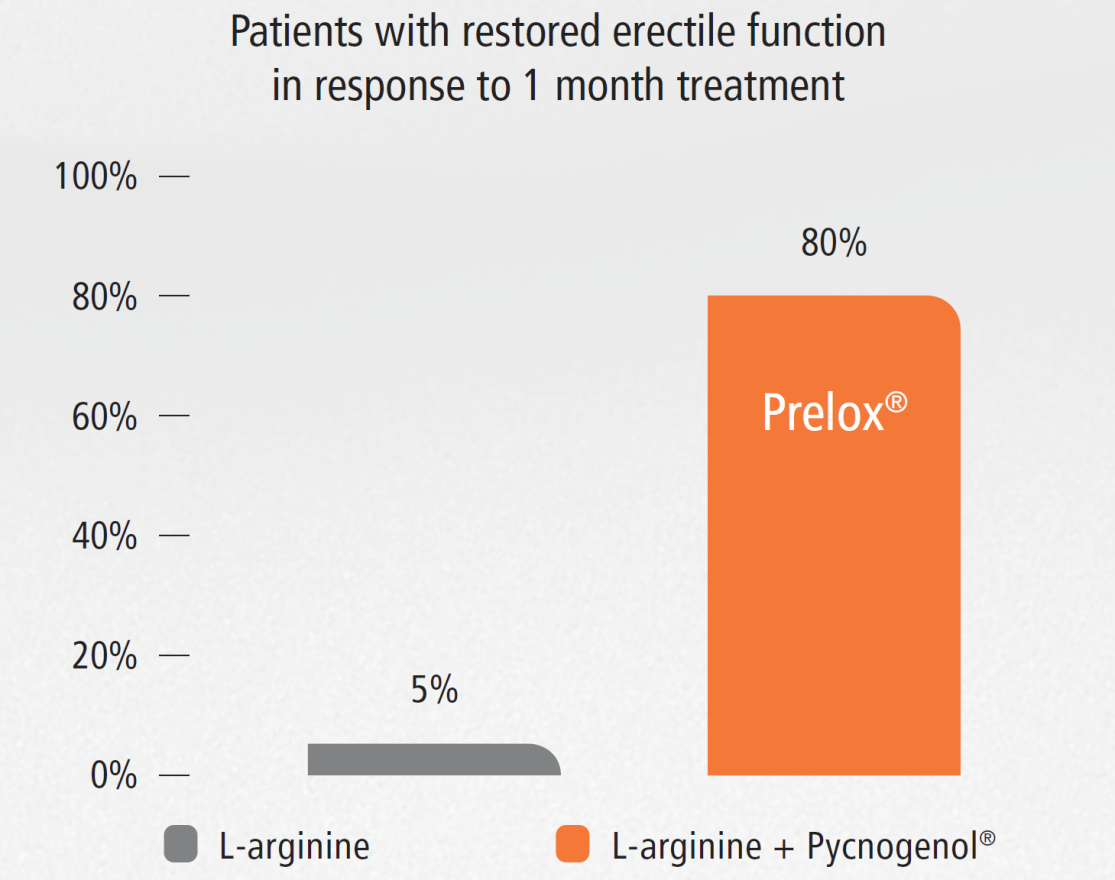 In a clinical study carried out by Steven Lamm M.D. in New York, 81% of men supplemented with Prelox® for 6 weeks showed an improved erectile function. 78% of the men judged Prelox® to be effective 1.
In a separate study, Fifty men presenting moderate erectile problems related to unhealthy lifestyles (overweight, mild hypertension) were investigated with Prelox or placebo. Men were assigned to either group A or B. During the first month group B got Prelox, while A received placebos. Then both groups discontinued tablets for one month (washout period) and then switched to the opposite regimen 2.
Results were measured using the International Index of of Erectile Function (IIEF), an indicator of subjective erectile function. Men who were taking Prelox experienced an increase in erectile quality (including the ability to initiate and sustain an erection), but experienced a decrease in benefits as supplementation stopped.
Better long term
A further study was carried out over a 6 month period, featuring men with moderate erectile dysfunction.
Benefits were noted at 3 months of supplementation, but found to be even better after 6 months. This study identified improved sexual desire in response to Prelox as well as greater sexual and orgasmic satisfaction.
This study demonstrates that the benefits of Prelox do not fade, but rather further improve during long-term supplementation for six months 3.
References
1.Prelox® for improvement of Erectile Quality Lamm S.European Endocrinology 1: 70–74, 2009
2.Improvement of erectile function with Prelox: a randomized, double-blind, placebo-controlled, crossover trial.Stanislavov R, Nikolova V, Rohdewald P.International Journal of Impotence Research 20: 173-180, 2008
3.Prelox® for improvement of erectile function: A review Lamm S, Schönlau F, Rohdewald P.
European Bulletin of Drug Research, 11: 29-37, 2003