Natural Lifestyle Magazine Product Awards
The results are in from the 2016 Natural Lifestyle Magazine Awards, voted for by consumers, the awards celebrate the best natural products on the market.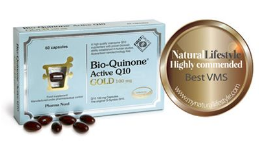 We're pleased to announce that Pharma Nord Q10 - Bio-Quinone Active Q10 has been highly commended in the Best Supplement category. There is documentation of Bio-Quinone Active Q10 in over 90 scientific studies. It is the number one supplement for a natural energy boost. Pharma Nord Q10 also helps treat and prevent heart disease. Pharma Nord Q10 is manufactured to pharmaceutical standards. Furthermore it is of high quality and provides a consistently high level of bioavailability.
Thank you to all of our customers who voted in the awards.
For more information on Pharma Nord Q10, visit q10.co.uk.