Bio-Quinone Active Q10 supplements is our most popular heart health product due to over 25 years in scientific trials.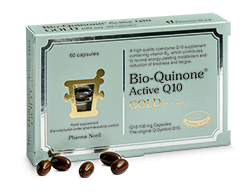 Gold standard of Q10 supplements
As a celebration of #BritishHeartWeek we bring you some lesser known facts about this amazing heart health boosting supplement Bio Quinone Active Q10.
Pharma Nord Q10 Facts:
Coenzyme Q10 occurs

naturally in the body, however our levels start to decline from the age of 25
CoQ10 is

responsible for 95%

of our bodies energy output
Pharma Nord have been producing

Bio Quinone

Q10 for over 25 years
Coenzyme Q10 is very sensitive to light and oxygen, which means it is to be treated very carefully during the manufacturing process
Pharma Nord's Ubiquinone is the heaviest researching Q10 supplement on the market, with scientific evidence for both its safety and effectiveness
Scientific studies on Pharma Nord's Ubiquinone CoQ10 have shown it significantly reduces the risk of death from cardiovascular disease
Cholesterol lowering drugs such as statins reduce the levels of Q10 in our bodies, this leads to side effects such as fatigue, muscle pain and shortness of breath
Studies show that supplementing statins with 100mg of Q10 daily reduces muscle pain in patients by 40%
Q10 supplements are available all over the market, however, we recommend only taking ones which can document that they're manufacturing safely and the body is easily absorbing the contents
Pharma Nord's Bio-Quinone Active Q10 has to this day took part in

over 90 clinical trials

while doctors worldwide recommend the product
---
For more information on Bio-Quinone Active Q10 supplements download our free 16 page guide here. Call our free nutritional advice line on 01670 534 900.