We were lucky enough to be invited by the lovely Helen Lederer to celebrate the launch of her first book, Losing It! The book is about a character called Millie who struggles with weight loss and has a less than lively sex life.
It was a night filled with literature, love hearts and of course Lady Prelox, as we showcased the UK's first natural 'pink pill' for women to an interested audience of journalists, literature fans and even the odd celebrity.
FIND OUT MORE ABOUT LADY PRELOX
---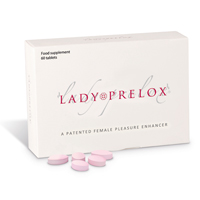 February is a month of celebrations for Lady Prelox too as we toast to its one year anniversary.
Since the completely natural pill was introduced last year, it has been helping women across the UK to improve and enhance their sex lives. The focus is on increasing desire, boosting pleasure and improving comfort.
And here's to Losing It! Congratulations Helen.
FIND OUT MORE ABOUT LADY PRELOX
If you would like to find out more about Lady Prelox and how it can help you, visit www.ladyprelox.co.uk.