Lady Prelox® is the first product in the world to offer science-based, natural support, specifically for women. This patented preparation, for daily use, contains key natural ingredients that work together to enhance pleasure, desire and comfort.
Lady Prelox® is a 100% premium plant-based food supplement, clinically proven to help women with female pleasure, arousal, desire and comfort by combining the following active ingredients: Pycnogenol® French maritime pine bark extract, Rosvita® rosehip extract, L-Arginine and L-Citrulline.
The active ingredients in Lady Prelox® are supported by decades of research that show they expand and support healthy blood vessels and increase blood flow.
FIND OUT MORE ABOUT LADY PRELOX
The Science
Three blind, placebo controlled clinical trials with 255 women - including two published in recent issues of Panminerva Medica and one submitted for publication - found Lady Prelox® to be effective in helping women experiencing moderate sexual function impairment.
All participants who supplemented with Lady Prelox® showed a significant improvment in desire, arousal, lubrication, orgasm, satisfaction and also recorded less discomfort and pain during intercourse. Results were measured using the recognised and established Female Sexual Function Index (FSFI).
FIND OUT MORE ABOUT LADY PRELOX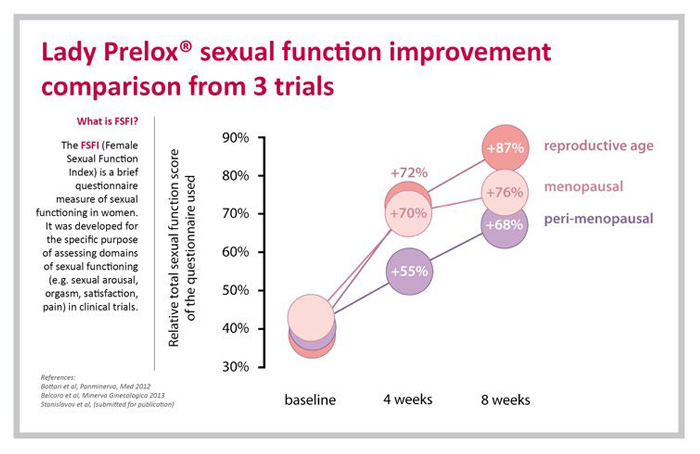 FIND OUT MORE ABOUT LADY PRELOX