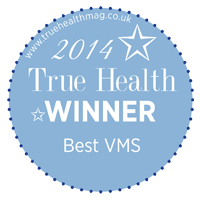 Bio-Chromium is helping the nation to kick its sugar habit.
We are delighted that our chromium supplement has received its second award win in recent months.
Readers of the UK's popular natural and complementary health magazine, True Health, have voted Bio-Chromium as their Best VMS (vitamin, mineral or supplement) of 2014.
FIND OUT MORE ABOUT BIO-CHROMIUM
---
This follows the news that Bio-Chromium was chosen as Best Supplement of 2014 by Natural Lifestyle readers. We love to hear that our customers are happy and would like to thank readers of both magazines for their support.
Last year we launched our 'Kick Your Sugar Habit' campaign to emphasise the ability of Bio-Chromium to reduce sugar cravings. Modern diets contain very little chromium and as a result, UK dietary intake is well below recommended levels. By taking Bio-Chromium, which includes the organic chromium yeast, ChromoPrecise, it is possible to control your blood sugar levels and reduce cravings.
The benefits don't stop there. The European Food Safety Authority (EFSA) confirmed that ChromoPrecise is up to ten times more bio-available than other sources of chromium such as chromium chloride, picolinate, polynicotinate and dietary sources, meaning it is better absorbed in the body.
National Sales Manager, Rasmus Henriksen, said: "To receive such positive feedback from our customers is brilliant and it is great to be able to celebrate another award win.
"It is our belief that Bio-Chromium can tackle the nation's sugar addiction, reducing cravings for sugary snacks and improving their general well-being. We are delighted that readers of True Health magazine are happy with the product and experiencing the benefits."
FIND OUT MORE ABOUT BIO-CHROMIUM
For more information on how Bio-Chromium can help you, visit www.bloodsugarcontrol.info or to purchase Bio-Chromium, click here.