Typically, we're informed that being overweight is a consequence of overeating. If we want to maintain our weight however, we have to maintain our calorie intake. A group of prominent researchers have published an article explaining how overeating is not the cause of obesity, but rather a sympton of the wrong diet, causing us to store more fat and eat more than we need.
The announcement from the researchers, led by Harvard professor David Ludwig, comes at a time where obesity is rampant and eating less/exercising cannot itself slow down the epidemic.
This causes the body to slow down the metabolism and store fat in the cells, at the same time as the appetite is increased - because we lack energy when the fuel is turned down. So we do not start overeating - we overeat because we eat wrong.
Bio-Chromium is a high-quality supplement made from the documented chromium yeast ChromoPrecise?
Bio-Chromium tablets contain a unique, patented organic chromium yeast, ChromoPrecise, which has been documented by the European Food Safety Authority (EFSA – the European FDA) to be up to ten times more bioavailable than inorganic or synthetic chromium sources.
In Europe, ChromoPrecise is the only organic chromium yeast that has been approved by the European Food Safety Authority to control blood sugar levels.
The chromium yeast has been tested in several published studies, and its very high level of bioavailability, purity and safety have been documented.
Unique, Patented Organic Chromium Yeast, ChromoPrecise?
Each tablet of Bio-Chromium contains 100 micrograms of the essential trace mineral chromium. The chromium used in Bio-Chromium is organically boun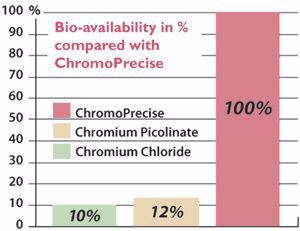 d, meaning that it is bound to yeast and natural amino acids (chromium yeast). It has an excellent bioavailability in the body ensuring that it is up to 10 times more absorbable than other approved chromium sources.
Bio-Chromium is made from a patented organic source called ChromoPrecise, which is a chromium yeast developed specifically to provide optimal bio-availability. Bio-Chromium is manufactured not only in compliance with GMP but also according to the highest pharmaceutical standards in order to ensure excellent quality and safety with exhaustive documentation of the active ingredients.
What is Chromium?
Chromium is an essential trace mineral that contributes to a normal metabolism of carbohydrates, lipids and proteins. This effect is useful for people who are trying to lose weight, or for people who are concerned with blood lipid levels such as cholesterol and triglycerides. In addition, chromium supports biological processes involved in regulating and maintaining normal blood sugar levels. Chromium works by supporting the action of insulin.
Inorganically bound chromium usually has a poor bioavailability in the body. The effect of a chromium supplement is dependent upon how effectively the nutrient is absorbed in the body.
British dietary analyses show that the average chromium intake is somewhere around 30-40 mcg daily. EFSA recommends a daily chromium intake of 40 mcg while the WHO considers chromium to be safe with intakes up to 250 mcg.
FIND OUT MORE ABOUT PHARMA NORD >
The Only EU-Approved Organic Chromium Yeast For Controlling Blood Sugar.
ChromoPrecise does not contain live yeast cells, it contains instead a chromium-containing protein-rich powder made from yeast cells.
We recommend that individuals who are allergic to yeast consult a healthcare professional before consuming ChromoPrecise
Control Your Blood Sugar With Bio-Chromium?
Bio- Chromium
60 Tablets - £13.95