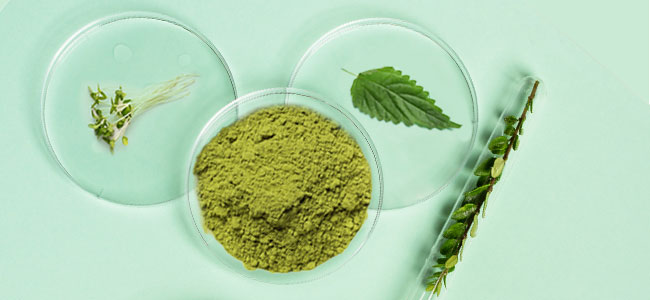 Copper complexes of chlorophylls comes in two forms: Cu-chlorophylls, E 141(i) and copper complexes of chlorophyllins: Cu-chlorophyllins, E141(ii). They are partly natural green colours derived from chlorophyll. The chlorophyll content comes from nettles, grass and alfalfa. In the production of Cu-chlorophylls and Cu-chlorophyllins) part of the natural magnesium content of chlorophyll is replaced by copper along with a few other changes, which makes the color more stable.
Cu-chlorophyll: E 141(i) is water-soluble and Cu-chlorophyllin: E141(ii) is fat-soluble
There are no known side effects from copper complexes of chlorophylls. The content of copper is 4-6%. It is assumed that the copper content is not released in large quantities. The ADI is set at 15 mg / kg body weight.